During the holiday and winter season we carry a ton of evergreens and evergreen decor. We hand-make our own wreaths, evergreen arrangements, grave blankets, pillows and saddles.  We also carry a variety of fresh evergreen garlands and loose bundled greens for outdoor decorating! Please see below for pricing. 
Handmade Wreaths
We have plain wreaths available as well as some sizes in pre-decorated. Our pre-decorated wreaths have a velvet bow and pine cones added. You may purchase additional decor such as ribbons, handmade bows, pine cones, millimeter balls, painted twigs, and berries in the flower shop. We have wreath sizes 20" through 40" almost always readily available on our patio. If you would like a larger wreath size, please call us ahead of time and place an order.
Plain Wreaths
20": $19.99
24": $24.99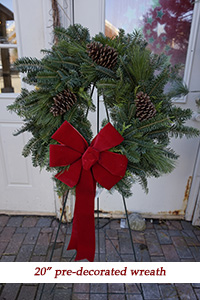 28": $34.99
32": $44.99
36": $54.99
40": $69.99
48": $109.99 (Special Order)
54": $139.99 (Special Order)
64": $159.99 (Special Order)
84": $219.99 (Special Order)

Pre-Dec Wreaths
20": $24.99
24": $29.99
28": $44.99
Evergreen Arrangements
Our evergreen arrangements are decorative pots filled with a variety of evergreens stems. You can keep these outside on your porch throughout the winter season. We have plain evergreen arrangements in four sizes available as well as several different pre-decorated kinds. We try to keep each kind available on our patio all throughout the season. 
Plain Evergreen Arrangements
Small (8" pot, approx. 24" high): $19.99
Medium (10" pot, approx. 34" high): $29.99
Large (12" pot, approx. 44" high): $39.99
This pricing is for a plain evergreen arrangement. For a decorated arrangement, an additional charge will be approx $25 on up. Decorating themes include a natural red twig dogwood and cones arrangement, a white painted twig and cones arrangement, and a red painted twig and Michigan holly arrangement. We will have these stocked on our patio throughout the season. Special orders can also be made with specific requests or delivery set up.
Grave Blankets
We make our grave blankets in two sizes. We also offer plain blankets as well as decorated. A decorated blanket typically comes with bows and pine cones. You may visit the flower shop with your blanket for personal additions or different decor options. Small blankets come with one anchoring pin and large come with two.
Plain Blankets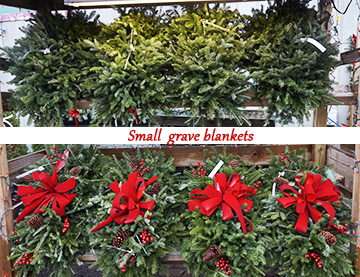 Small (3-4'): $39.99
Large (5-6'): $49.99
Decorated small: +$15
Decorated large: +$25
This includes bows and cones.
Special orders can be placed for additional or specific decor.
Grave Pillows $39.99
Grave pillows are smaller versions of grave blankets. They usually end up being approximately 18-24", but use just as many greens as our small grave blankets. They are not stocked and need to be special ordered ahead of time for pickups. These are plain and additional charges will be added for decor.
Grave Saddles $39.99
Grave saddles are evergreen structures made to fit around the top of a cemetery headstone. These are also not stocked and need to be ordered ahead of time. This is the price for a plain saddle, additional charges will be added for decor.
Swags $9.99
Each swag ends up approximately 15-18" in length. They are a beautiful mix of fresh evergreens. Additional decor may be added at an additional charge. Please see the flower shop if you would like bows, twigs, berries or cones added. 
Fir Balls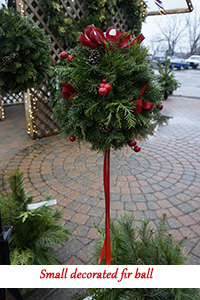 We sell our fir balls plain and with decorations added. These are usually stocked on our front patio. Decorations usually include ribbons, pine cones, and berries, but can vary depending on the decorator. Decorated fir balls usually run $15-$20 extra on top of plain prices. 
8" Fir Ball: $44.99
Loose Greens
We offer a great variety of bundled evergreens! These work perfectly for projects, outdoor decorating, or for indoor holiday centerpieces or flower arrangements! Most of our greens are in 1 lb. bundles, but we do stock some varieties in 3 lb. bundles. We stock all of these varieties at the beginning of the season, however do run out of certain things towards the end. Call ahead if you are stopping out for a specific type and we'll make sure we have it in stock for you!
White Pine (3 lb.): $7.99
Fraser Fir (3 lb.): $6.99
Cedar Tips (3 lb.): $7.99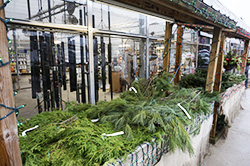 Coned Cedar (1 lb.): $5.99
Incense Cedar (1 lb.): $5.99
Port Orford Cedar (1 lb.): $5.99
Noble Fir (1 lb.): $5.99
Boxwood (1 lb.): $4.99
Holly, green (1 lb.): $8.99 *not in yet*
Juniper, blueberry (1 lb.): $2.99
Fresh Evergreen Roping
We offer fresh evergreen roping for outdoor decorating. It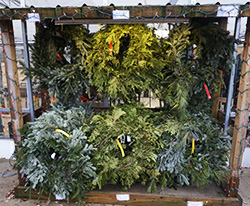 comes in three different types and is sold by the foot for $2.75/foot, or in pre-cut lengths of 25' and 50'. We have limited quantities on the 25' lengths.
Mixed Conifer: $45.99/25' or $79.99/50'
Heavy Cedar: $45.99/25' or $79.99/50'